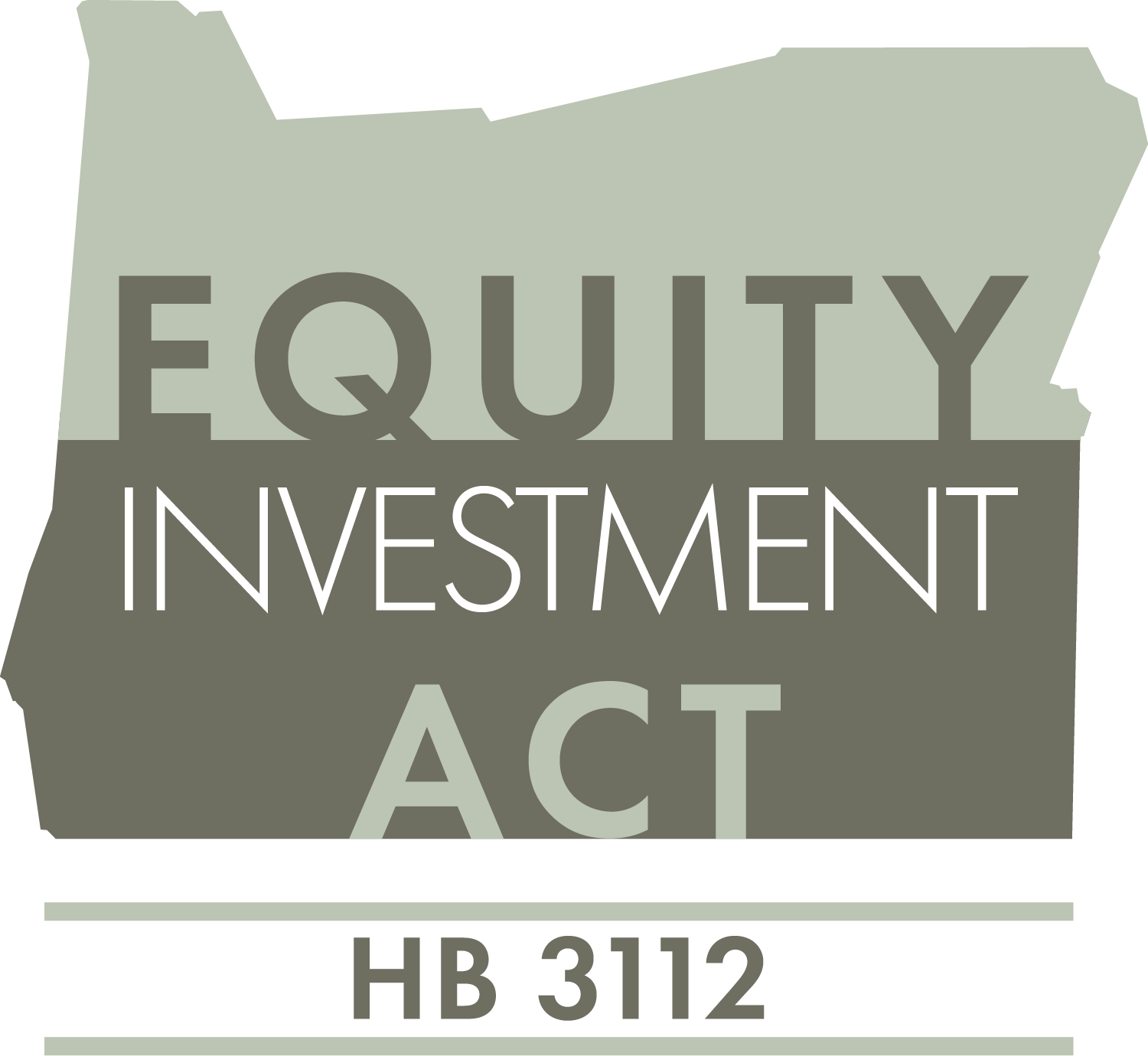 As Oregon's recreational cannabis market continues to see strong growth, the Oregon Equity Investment Act provides an opportunity for Oregon to pass the most comprehensive, holistic approach to cannabis equity in the United States. This Act focuses on widespread reinvestment in the communities that have been hurt most by cannabis prohibition and the War on Drugs.
Passage of the Oregon Equity Investment Act would focus cannabis tax dollars and other relevant funds into repairing damages done to Black and brown communities by providing business opportunities and support and meeting housing, education, and health care needs. The act also enacts free, automatic expungement of eligible cannabis crimes for everyone eliminating the hurdles that have kept 20,000+ Oregonians from expunging their cannabis record. Finally, the act creates more opportunity for Black and brown business ownership and employment in the growing cannabis industry.
Allows for the creation of an Equity License that will provide overdue institutional support to BIPOC Cannabis business owners. Provides expedited licensure process for equity applicants.
Allow for a variety of Equity Licenses across all OLCC license types
2 new full-time employees at OLCC as dedicated support for equity licensees
Faster processing of equity licenses
Provisional license without requirement of Land Use Compatibility Statement (real estate requirement)
On-premise consumption license for equity licensees only for 10 years
Capital and technical support to equity licensees to help address funding and resource inequities for Black-, Indigenous- and Latinx owned businesses.
Delivery license (expands current definition) for equity licensees only (10 years)
Qualified licensees requirements include ownership of 51% by Black-, Indigenous- or Latina/o/x OR convicted for cannabis offense + under income max
Requires free, automatic expungement of qualifying cannabis crimes by removing financial barriers and other impediments.
Free, automatic expungement
Allow use of cannabis tax equity funds to pay for "automatic" expungement via record research
Forgive fines and fees for people with unsatisfied judgements
Focuses existing cannabis tax dollars into direct investment in BIPOC owned businesses. Requires community reinvestment into areas and individuals most impacted by the over-arrest and incarceration due to cannabis crimes.
Invests existing cannabis tax dollars into Black-owned, Indigenous-owned, and Latinx-owned businesses
Fund programs dedicated to home and land ownership, job training, and wealth creation.
Directs existing OR Health Authority and state school fund cannabis tax dollars to mitigate Black, Indigenous, and Latinx community health and education inequities
Equity Investment Governing Board
Drives transparency and accountability of program by tracking use of funds
Works cross-functionally with agencies to achieve desired program outcomes
Assesses results of programs funded and has authority to take action to achieve better results
Has flexibility to direct funding and spend to programs and solutions that best meet community equity needs
The Equity Investment Fund
How Cannabis Dollars Can Repair the Harm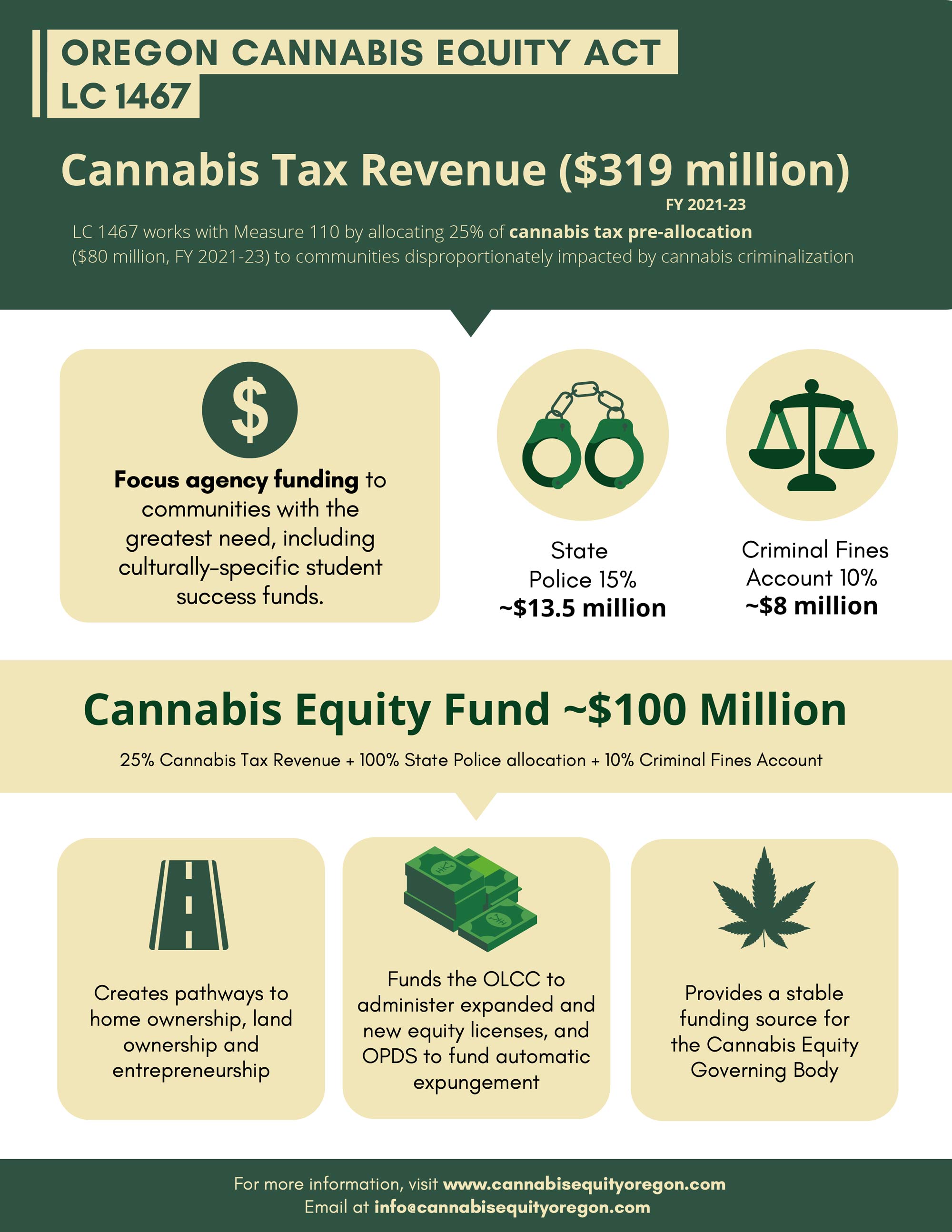 Impact of arrest and incarceration
Two in three families with one imprisoned family member can't meet basic needs.
67% of formerly incarcerated people are unemployed or underemployed five years after their release.
Prison time reduces wages up to 20% and the effect of incarceration on lowering wages is twice as great for Black and Latinx workers than for whites.
Less than one-third of formerly incarcerated people continue with education or training of any kind. The cost of tuition and inability to get educational loans because of criminal conviction are most cited barriers.
79% of formerly incarcerated people were denied housing because of their or a family member's conviction history. Source: Ella Baker Center, 2015, "who pays, the true cost of incarceration on families"
Black people own 2.7% of licensed cannabis businesses in the U.S. Black small business ownership across all industries is 9.4%. Latinx cannabis ownership is 6% vs 12% for all industries. [Marijuana Business Daily, 2017; Small Business Administration, 2019]
Latinx and Black people have less than 10% of the personal wealth whites have, which negatively impacts capital available for starting and running a business. Median household wealth for Black Americans, the community with the highest arrest rates for cannabis possession, is projected to hit zero by 2053.

Source: Prosperity Now and Institute for Policy Studies, 2017
For more, read the Legislative Data Report, which gives compelling data showing why this program should directly name Black, Indigenous, and Latina/o/x communities, as well as people previously convicted of cannabis offenses who face economic hardship, as the recipients of equity licenses and the communities identified for economic investment via cannabis taxes.
1. SIGN OUR PETITION
Sign this petition to urge the Oregon Legislature Ways and Means Committee to pass and implement HB 3112, the Oregon Equity Investment Act.
2. Connect
Sign up to join our community. You can get involved today.
3. Donate
Support our lobbying efforts with a donation